Discography
R.I.P. (1987)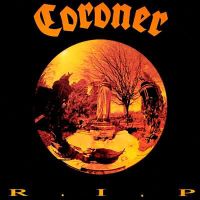 1. Intro
2. Reborn Through Hate
3. When Angels Die
4. Intro (Nosferatu)
5. Nosferatu
6. Suicide Command
7. Spiral Dream
8. R.I.P.
9. Coma
10. Fried Alive
11. Intro (Totentanz)
12. Outro
Produced by Harris Johns and Coroner
Engineered and mixed by Harris Johns
Recorded at Music Lab, Berlin in March of 1987
All songs written and arranged by Royce/Baron except:
"Totentanz" by A.M. Siegrist and"Spiral Dream" by T.G. Warrior
Cover design by M. Marky
While somewhat less focused and mature than its successors, Coroner's first full-length album remains essential listening not only for the group's fans, but for all who like their metal to go down fast, slippery and blistering. Coroner virtually reinvented the boundaries of late-Eighties speed metal on R.I.P., with Tommy T. Baron's fluid riffs and leads soaring above the jazz-influenced bedrock of Ron Royce and Marky Marquis' rhythm section. Despite lackluster production values, the album is rich and varied in textures, making excellent use of keyboards and acoustic guitars to create a mood of genuine dread that few bands can match. The kickoff track, "Reborn Through Hate," was an instant fan favorite and a concert
mainstay throughout Coroner's career. R.I.P.'s lyrics occasionally leave something to be desired (especially a lyric sheet!), but Marky Marquis would address this flaw on later releases. Without question, this is one of the strongest debut albums any band has ever unleashed--and things would only get better from here.
Review by Geezo