Discography
Punishment For Decadence (1988)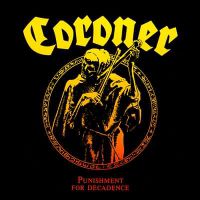 1. Intro
2. Absorbed
3. Masked Jackal
4. Arc-Lite
5. Skeleton On Your Shoulder
6. Sudden Fall
7. Shadow of A Lost Dream
8. The New Breed
9. Voyage To Eternity
10. Purple Haze
Tracks 1 and 4 are instrumentals.
[An alternate cover, similar to those on the more recent Coroner albums exists for this album... Apparently the cover art was changed by Noise Records without the consent of the band.]
["Purple Haze" was originally the B-Side of the "Masked Jackal" single]
Produced by Guy Bidmead
Engineered by Guy Bidmead
Assisted by Andreas Gerhard and Dexter
Guest Musicians: Gary Marlowe (Synth. Eff.), Dexter (Backing Vocals)
Cover concept and design by Marquis Marky
All lyrics by Marquis Marky except "Purple Haze", music and lyrics
originally by Jimi Hendrix
Released in 1988, Punishment For Decadence found Coroner tightening their musical style, alternating their trademark volleys of speed with a slower, high-impact method of songwriting. The acoustic guitar and keyboard trimmings that graced R.I.P. were largely cast aside for this release, resulting in an album that is less atmospheric, but more focused in its concise delivery. Marky Marquis' lyrics are much improved on this effort, deftly touching on such subjects as broken relationships ("Absorbed"; "Shadow of a Lost Dream"), deceitful politicians ("Masked Jackal"), and addiction ("Skeleton on Your Shoulder"). "Arc-Lite" is an instrumental masterpiece, three minutes and twenty seconds of jaw-dropping musicianship that helped
stake Coroner's claim as the most technically proficient band in all of metal. Punishment For Decadence not only dodged the sophomore jinx that befalls so many young metal bands, but for those intelligent enough to be listening, it raised the standard of quality for the entire underground metal scene.
Review by Geezo