Discography
Coroner (1995)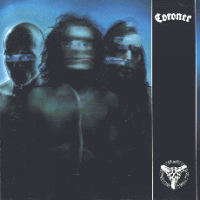 1. Benways World (0:49)
2. The Favorite Game (4:30)
3. Shifter (4:50) NEW!
4. Serpent Moves (6:13)
5. Snow Crystal (0:37)
6. Divine Step (Conspectu Mortis) (6:21)
7. Gliding Above While Being Below (3:37)
8. Der Mussolini (3:39)
9. Last Entertainment (T.V. Bizarre) (3:51)
10. Reborn Through Hate (4:02)
11. Golden Cashmere Sleeper, Part 1 (4:57)
12. Golden Cashmere Sleeper, Part 2 (4:59)
13. Masked Jackal (5:01)
14. I Want You (She's So Heavy) (7:15)
15. Grin (No Religion Remix) (8:25)
16. Purple Haze (Radio Live Cut) (3:45)
A bittersweet offering for fans, Coroner's self-titled final album contains selections from the band's five previous releases, interspersed with new material. Despite the fact that the band had already called it quits, Coroner vetoed their record company's idea of a strictly "greatest hits" package to fulfill their recording contract and opted instead to reconvene in the studio one last time. Actually assembled during a series of sessions (sometimes with outside musicians), Coroner offers fans a glimpse into the future that might have been. And considering that the band members were acting out of contractual obligation as much as anything else, the new tracks on the album are especially impressive. Furtherextending their use of sampled sound effects, "Benway's World" (a nod to William Burroughs' infamous Doctor) and "Snow Crystal" provide eerie atmospherics to the proceedings, not unlike what the band achieved with R.I.P.'s more pedestrian acoustic guitar and keyboard passages. "Gliding Above While Being Below" is an excellent showcase for the six-string skills of Tommy Vetterli (heretofore known as Tommy Baron), as it displays his keen ability to mix melodic pickings with metallic chord progressions. The remainder of the new material combines the sharp production values of Mental Vortex with the snarling compositional style the group employed to such great effect on Grin, but exercised with a more restrained, cerebral feel. It's an exciting and familiar sound: Coroner exploring at the edges of their art, groping for the next stage of their evolution. Let's hope that someday the band will reunite to discover just what that next stage is.
Review by Geezo
Songwriters:
Tracks 1, 5, 6, 9, 10, and 13 written by Vetterli, Broder, and Edelmann.
Tracks 2, 3, 4, 11, and 15 written by Vetterli and Edelmann.
Tracks 7 and 12 written by Vetterli.
Track 8 written by Delgado and Gorl.
Track 14 written by Lennon and McCartney.
Track 16 written by Hendrix.
Recording Dates:
Track 10 recorded in March '87
Track 13 recorded in May '88
Track 9 recorded in June '89
Tracks 6 and 14 recorded in June '91
Tracks 4 and 8 recorded in April '93
Tracks 2, 3, 7, 11, 12 and 15 recorded in January '95
Tracks 1 and 5 recorded in February '92
Track 16 recorded in September '93
Re-released Tracks:
Tracks 4, 6, 9, 10, 13, and 14 have been previously released on earlier Coroner LP's and are represented on this album with the following changes:
Track 4 : Shortened from the original version.
Track 6 : The original version has a voice intro that is left out here.
Track 9 : No difference.
Track 10 : The end of the song has been altered.
Track 13 : There is a new voice intro at the beginning of the song.
Track 14 : No difference.
Other musicians:
The drums on tracks 2, 3, and 11 were played by Peter Haas.
The bass on track 12 was played by Chris Vetterli.
Extra Info:
The samples from "Gliding Above while Being Below" are from the film "Altered States", circa 1980.